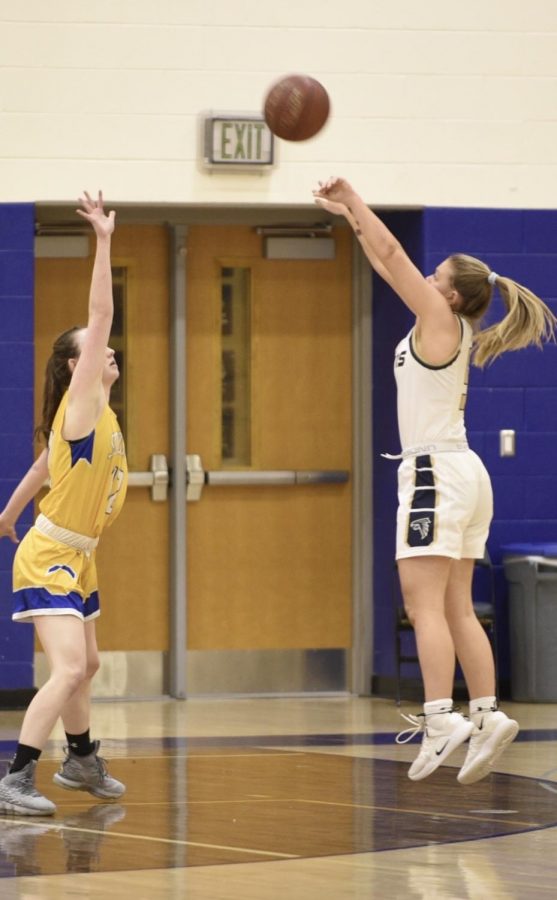 Courtesy of Cam Chew
Senior Camryn Chew is one of the few athletes at SPHS who not only is committed to a Division 1 college, but also plays more than one sport. Although she is best known for her goal-scoring and skills in lacrosse, Chew is also an unstoppable basketball player. Chew's love for each sport and off-season work helps her excel at both basketball and lacrosse. "From basketball and lacrosse I have learned the value of teamwork, hard work and patience," Chew said.
Chew began playing basketball for Green Hornets when she was in kindergarten and has stuck with the sport ever since. As point guard, Chew uses her ball-handling skills to carry the ball down the court and make smart passes to her teammates. "I like it because I can control the offense and when I drive, it opens up passing opportunities for other players," she said. Chew enjoys the aggressiveness of the game when she gets the opportunity to play defense in basketball. "My favorite part about basketball is defense. I love being as aggressive as I can on the defensive end," Chew said. Because basketball is not her main sport, it helps her get in shape and prepare for the upcoming lacrosse season. "While I'm in basketball for a long four months I feel like I am prepared physically for the lacrosse season because of how much we run," Chew said. "Playing defense in basketball also helps me with my footwork in lacrosse." 
Chew's main sport, lacrosse, is something she has been doing since before kindergarten. Although lacrosse seems very different than basketball, the sports are quite similar in many ways. "On defense, basketball is basically lacrosse without a stick," Chew said. "You always want to put pressure on the ball and have other players be ready to slide in and help." Playing the midfield position, Chew focuses on speed and getting the ball up to offense.  "I like playing midfield because there's always something happening and I can contribute to all aspects of the game," she said. In early December 2018, Chew committed to Loyola University Maryland to play Division 1 lacrosse. As she prepares for her last high school lacrosse season, Chew looks forward to working with a brand new team. "We lost 12 seniors so it will be quite an adjustment but we are a talented team and I hope to do what we did last year and win the state championship," Chew said.