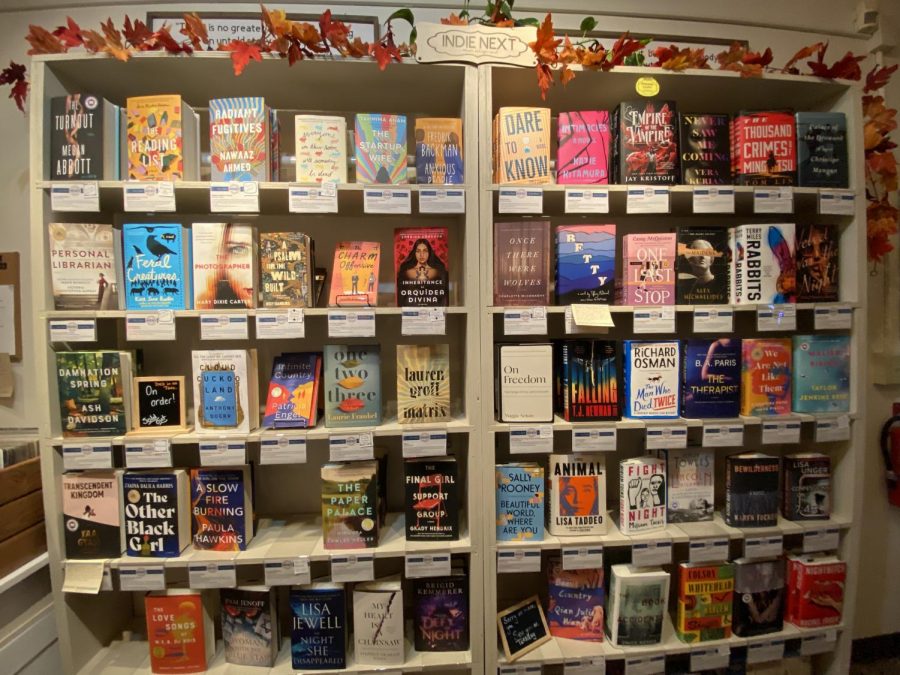 Mia Slote
Park Books and LitCoLab, located in Severna Park, opened May 1 and is an independent bookstore that services the Anne Arundel community.
Melody Wukitch, the owner, first had the idea to open a bookstore in October 2020. As a reading specialist, she realized that having a bookstore in the community would be "the best way to engage readers of all ages."
What sets Wukitch's store apart from other indie bookstores is that there is a LitCoLab embedded in the store. The LitCoLab is where kids and adults can engage in literacy programming.
"To be wholly literate, a person must understand financial literacy, media literacy, cultural literacy, mathematics literacy, health literacy, digital literacy" and more, Wukitch said. Currently, the LitCoLab offers reading and writing assessments for young children and programs taught by certified teachers.
For teenagers and high schoolers, Park Books offered summer reading assignment book clubs over this past summer, and a teen manga club meets the first Tuesday of each month at the store. 
"We would love to host teen book clubs here at the store and are currently seeking a few high schoolers to get it going," Wukitch said.
Wukitch believes that independent bookstores are the "hub of a community" and that they provide a place for members of the community to "meet, share ideas, learn new things, and grow as individuals… together." 
Similarly, Beth Gillespie, an employee and mother, thinks that independent bookstores are important because they "help foster a love of reading in the community, starting with the youngest readers." There is a story time read aloud for youngsters every Saturday 11 a.m.
As a "book person," Gillespie loves working at a bookstore, "surrounded by books and selling books." She also likes the fact that the "people who come into a bookstore are all really nice." 
Brigid Kemmerer, a New York Times bestselling author, found out about Park Books from a mutual friend of hers and Wukitch's. Like Wukitch, she believes that bookstores can be a "community hub for all different kinds of people" and that they can "bring a real source of information and entertainment and fun to people of all ages."
As a fiction writer, Kemmerer is always trying to craft stories where other people can "find themselves," and believes that bookstores create an environment where people can come together and "discuss books, to be safe, and feel seen," which is incredibly important to her as an author. 
Kemmerer's new book "Defy the Night" came out Sept. 14, and there is a parent/teen book club and adult book club for the young adult fiction novel at the bookstore, as well as signed copies. 
Morgan Macallair, a sophomore, thinks that Severna Park has needed a local bookstore for a long time, and believes that "it's just perfect" and the "best idea for a business."
One of Macallair's favorite aspects of the bookstore is the staff.
"You don't just buy a book and leave, you buy a book and talk to her [Wukitch]. She'll give you recommendations, tell you about authors, and she'll pre order books for you," Macallair said. 
Owen Blackburn, a freshman, is mostly interested in their record collection.
"I was pretty psyched that there was a place that sells records in Severna Park," Blackburn said. 
You can contact Park Books, located at 555 Baltimore Annapolis Boulevard, through their website https://parkbooksmd.com/. Their Instagram and TikTok accounts, @parkbooksmd, are full of events and random aspects of running a bookstore.
 The bookstore sells all sorts of novels, such as general and classic fiction, romance, poetry, science fiction, nonfiction, fantasy, mystery, thriller, signed books, and more. 
"I've found a lot of cool books I probably wouldn't have read if I was just looking up specific books," Blackburn said.
"It's really easy to navigate, super organized, the sections are easy to find," Macallair said. 
Gillespie has encountered positive reactions while working at Park Books.
"From the looks of what I've seen when I'm working, the people who live here are thrilled that the bookstore is here too, and I think it was missing from our town. Everyone seems really grateful that there's now a local bookstore."