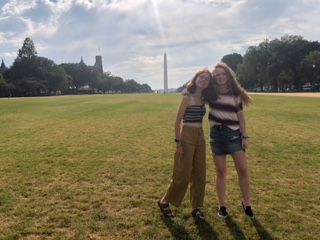 Although it may be hard to hear, the end of summer is approaching, though students may be back to school summer doesn't officially end until the fall solstice on September 22.  Hopefully, this list will provide fun places to go, and activities to do that will help make the last days of summer the best.
Go outside!
In just a few months, the weather will become freezing to the point where going out is unbearable. So, take advantage of the weather while you can. Nearby state parks like Patapsco Valley State Park and Gunpowder Falls State Park offer fun activities like hiking, camping, and sometimes swimming.
Splash around!
Our area is known for its fantastic water access, so use it! This can be as simple as going to the pool or a local beach. If you are willing to travel, places like Deep Creek Lake and Ocean City are great places to swim, go boating, or just enjoy the sun with friends and family.
Relax!
School can be stressful, so it is important to enjoy your downtime while it lasts. You can relax by having a day in and watching a movie, or even by just doing something you love like drawing or basketball. It will keep your mind off the stress of school, at least for a little while.
Day trip!
We are lucky enough to live right near three amazing cities: Annapolis, Baltimore, and Washington D.C. All three make great candidates for a day trip with your friends. In Annapolis, you can walk the streets downtown, shop, eat, and sit by the boats in Ego Alley. Baltimore is home to the National Aquarium in the Inner Harbor, as well as some fun stops like the Sound Garden in Fells Point and Fort McHenry on Federal Hill. In DC, you can visit the weekend Eastern Market, or get Congress gallery passes from your local congress-people to see our government in action.
Spend your time with family and friends!
After school starts, there is no doubt that free time gets limited, and quality time to spend with your friends and family gets cut. So, spend time with them now. Hanging out can be anything from one of the aforementioned day trips, to sitting in the backyard stargazing. All of this time is quality time that will make great memories.