Corgis gather in downtown Annapolis to strut in their costumes
Hang on for a minute...we're trying to find some more stories you might like.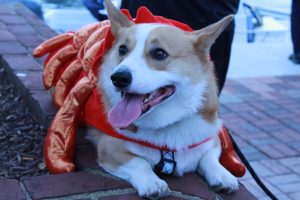 With costumes ranging from waffles to harry potter, corgis of all shapes and sizes lined up at Paws Pet Boutique then made their way down to the Maryland State House for a group picture then proceeded to the dock to meet other pups while owners paddle boarded. On Oct. 30th, hundreds of dogs and corgi enthusiasts arrived in downtown Annapolis to participate and watch the parade.
It all started with a Facebook post that ended up getting 300 likes. Cruz Vargas, proud owner of Cheesecake, found out about the event "through a friend on Facebook" so he dressed her up as Supergirl, he said "we missed the parade but saw where everyone was meeting." Social media assisted in jumpstarting the event. Dressed up as racing corgi and a horseback rider, Alexander Graham corgi and his owner Katherine Starmont were excited to come to this corgi gathering. Starmont said "I found out about this on social media, I was unaware there was an Annapolis corgi club, I was so happy to discover there is such a thing. A large gathering of corgis is magical, corgis are magical." Not once was there a dog fight.
From puppies to adult corgis, they all got along smoothly. Rubie Zamora, owner of 10 month old Butters disguised as Harry Potter, said "He gets along with the others but he's still a puppy." Eva Hagan brought her 11 month year old puppy, Zelda to not only first parade but her first corgi social outing. Hagan got her a month ago and "her about it on the meetup app."  Fellow Severna Park High School student, Anna-Grace Keller brought her dog, Tayloch dressed as a pirate to his first parade. Keller said "he loves making new friends."
They were on their best behavior at the parade but according to their owners they are just as sweet at home. Vargas said Cheesecake "is a good dog. They are also food motivated." Melissa Marcia, owner of siblings Jordan and Holly, highly recommends them as a household pet. Marcia said "If you're ready for a high energy dog, they are a big dog in a little body."
As the parade drew to a close, people paddle boarded and the dogs made new friends. Since the event was funded by the Annapolis Corgi club, the club hopes to welcome new members. Be sure to follow @Annapoliscorgiclub on Facebook and Instagram.