Risky Pranks in Severna Park High School History
Hang on for a minute...we're trying to find some more stories you might like.
Vandalism, breaking and entering and felonies have all been a result of pranks that were intended to be harmless. Teachers and alumni share the illegal acts that have been committed in Severna Park High School history.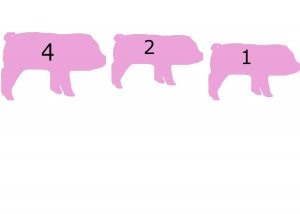 Mr. Kandra said, "At least nine years ago, a student for a senior prank went down Kinder Farm, stole three piglets, put them in the school, and numbered them one, two and four so they could never find the third." The pig pranks don't just stop there. Head of the drama department, Ms. Germanos (class of '74) added to the senior prank stories, "I remember a couple years ago they got that pig from Kinder Farm and they let him loose in D hall and they put grease on it so when Officer McAdams tried to grab him, it slipped out. Poor pig though, it was very traumatized." In the name of senior pranking pigs have been repeatedly stolen from Kinder Farm Park. Back in 1974, "they put a donkey in the school" as well, and locked it in, according to Germanos. The farmers of the animals were ticked off that kids stole their animals for a joke.
Some of these practical jokes were anything but harmless. "In 2002 a student chose to streak during a lacrosse game down the field naked. They [the officials] wanted to prosecute him and wanted to charge him as an adult and he would be considered a sexual predator but they downed it to him being a child, underage so it was just a slap on the wrist," said Kandra. Germanos noted that the same student, Walker Babbington also streaked outside the Rock 'n' Roll cast party. Streaking is illegal now, but in 1974, there was a popular song called "The Streak" and the graduating class that year "had graduation in the stadium so they ripped off their robes and ran across the stage naked," said Germanos.
Germanos also shared an interesting prank by class of 2013 alumni Jake Seibel, who sang MC Hammer's classic "U Can't Touch This" in Rock 'n' Roll Revival XXIV, "He did that dance across the stage to get his diploma, and I heard he didn't get his diploma that day but a week later," said Germanos.
The Severna Park and Broadneck rivalry runs deep. One year a group of students "broke into the Broadneck computers and changed the computers when the kids logged on and put something like 'you rock" said class advisor and health teacher, Ms. Hendler.  "Another student broke into Broadneck and stole a fire extinguisher and ran down the hallway with it," said Kandra.
Principals tended to be a target for the prankers, and when the school was run by Principal Dykstra, according to Ms. Dattlebaum, "students went to his [Dykstra's] house and soaped his and his wife's car but they mixed the soap with paint. He never came back after that."
Years ago, even before Mr. Bathras our the principal, the school had other interesting senior traditions. Robertson said that on "[On] the last day of school for the seniors, they would have the juniors against the seniors and they would do water balloons and shaving cream at each other. The teachers would be out there too so it wouldn't be anything bad. Parents would also decorate cars."
Due to the streaking scandal in 1974, students have to carry their robes on their arms at graduation. "They stopped doing that [water balloons] because the asphalt would get wet and people would fall and get hurt," said Coach Hines. Now students don't even attempt pranks because of the "fear of getting in trouble," Mr. Dunbar revealed. Pranks may go down in history as memorable but sometimes end up doing more harm than good. Now harmless pranks are severely punished due to the endless acts of destruction.