Undefeated Wrestler
Broadway wins the state title with a record of 43-0.
SPHS junior Ty Broadway is a state champion wrestler and varsity football player, and he achieved this feat without playing organized sports as a kid. "My dad was skeptical about me playing sports at such a young age because he had seen a lot of young athletes get injured and it affects them when they grow up," Broadway said.
Now just, two years later he is an undefeated state champion.
On March 7, at the Showplace Arena in Upper Marlboro, Md., Broadway defeated Grant Warner of Manchester Valley High School. Finishing 43-0, Broadway was the only state champion from Anne Arundel County of any weight class this season.
A dream that seemed so far two years ago becoming a reality is something you can't describe. Every athlete's story has a beginning in which a person influences them to play their sport.. "Coach Vosburgh and coach Creek from Glen Burnie forced me to wrestle. Since they knew me and my family growing up they had high hopes for me competing at this sport," Broadway said.
Hard work and dedication to anything you do in life can't be done without love and respect, and that's where Broadway separates himself from others. "What I love is that it's just you versus another person, no one else is on the mat. And you don't have to depend on another person to help you win, it's just you," Broadway said.
All of that hard work and dedication led Broadway to be nothing but overpowering this past season, winning the county championship for the second straight season defeating Southern's JoJo Herring via pin.
Matching up with Warner in the Regional Final and State Final ultimately put him to the test of being on top of his game. Something that helped him improve his wrestling skills would be football. "It shows me how I have so much more to learn and how I am able to develop my body against bigger people that aren't in my same weight class," Broadway said.
Family is Broadway's number one priority, and he believes he would not be in his position today without them. "It was unexplainable having my family at states. It felt like a dream," Broadway said.
As for the future, Broadway hopes to continue his wrestling career at a Division 1 school.
About the Writer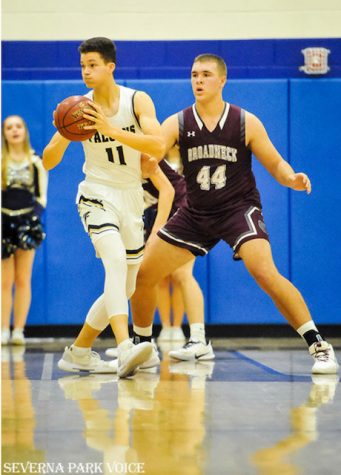 Nick Carparelli, Editor-In-Chief
My name is Nick Carparelli and I am the Editor-In-Chief for the Talon in my third year at the publication. I enjoy playing baseball, talking sports, politics...