Classics to Catch Up On 
All the best movies to watch during quarantine.
An all-time classic, this film might entertain the girls in your family more than the boys. Holly Golighty, portrayed by Audrey Hepburn, is a New York society girl looking for a rich man to marry so she can continue her lavish lifestyle. When a man pursuing a career in writing moves into the building, she befriends him and unwillingly falls in love with him. Unfortunately, Holly is looking for a rich man not a writer. The movie carries the story of their adventures, time spent together, and a dramatic romance sure to win every girl's heart. "'Breakfast at Tiffany's' is such a classic, and of course I love Audrey Hepburn in it. It's the perfect mix of funny and sweet, I love to watch it and think about living in that era," junior Kate Stefancik said.  
Everyone knows "Star Wars," whether you're re-watching it or seeing it for the first time, it's a good way to spend the time. The best Star Wars movies to watch are "A New Hope," "The Empire Strikes Back," and "Return of the Jedi." The original trilogy follows Luke Skywalker, a young adult living with his uncle and aunt, discovering the unknown secrets of the galaxy. He later meets Hans Solo, his Wookie Chewbacca, and Princess Leia (after some rescuing) as they travel through space fighting the evil Galactic Empire. Featuring music by John Williams, Star Wars has one of the most well-known movie soundtracks of our time. "It's the most iconic movie of the century," sophomore Lucy O'Brien said.  
"The Shining" can be considered a horror movie or just a thriller depending on who's watching. Set in the Colorado Rockies, Jack Torrance and his family move into the uninhabited Overlook Hotel. On a side note, the Overlook Hotel is a very real hotel known as The Stanley Hotel, also in Colorado. While living in this hotel Jack Torrance starts to see things and slowly goes insane. Watching the movie is like being on a rollercoaster full of unexpected twists and turns. From twins, gallons of blood flowing from an elevator, and the infamous room 217 "The Shining" will keep you on your toes.  "'The Shining' is the perfect movie to watch when you're in the mood for a thriller because it's not too scary but will still get your heart racing," junior Emersyn Kelter said.  
About the Writer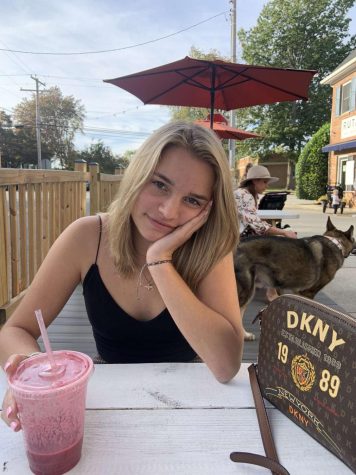 Sophie Krejci, Editor in Chief
Sophie really enjoys working out, dancing, listening to music, and reading. She's thinking of going into international relations. Her favorite food is...