An Inside Look on Hybrid Learning
The ups and downs of hybrid learning from an elementary school teacher perspective
Alison Keffer is a third-grade schoolteacher at Episcopal Academy (EA) in Newtown Square, Pennsylvania. Before schools opened in the fall, Episcopal decided they would do hybrid learning for their students. However, Episcopal left the option for students to be fully online, leaving teachers to create a lesson for in-campus and virtual students at the same time. "Only a small percentage of families opted to be home (three of 16 in my homeroom), until last week when there were two positive [Covid-19] cases in the Lower School. Now 4 more families are opting to have their children home," Keffer said.  
Even still teachers across the country are learning how to adjust in this time of uncertainty. "At first we just had to figure out how to continue teaching using Zoom. None of us, teachers, or students, really knew how to use Zoom or Google Classroom well. Plus, the teachers were rewriting our curriculum each night to make it usable for remote learning," Keffer said
Now, after a summer of lessons and help from the school, all the teachers at EA know how to use the online tools, but still struggle with the day-to-day challenges of hybrid classrooms. Naturally, Covid-19 prevents teachers from doing a lot of hands-on and group activities, pushing teachers to be creative with lessons that keep students interested. "I'd like to have more time to curate interesting activities for the students but am also trying to limit screen time as much as possible," Keffer said. 
Other difficulties include classes such as lunch, recess, and gym (physical education). EA limits tables to four students who must be from the same homeroom, plexiglass separates them as well. "[Teachers] are assigned to different areas of the campus and students may only play with other students from the same homeroom. If two homerooms are on a field, each one takes half and even though they want to play catch together and talk they are not allowed to do that," Keffer said. Moreover, Keffer explained that gym takes place at an Athletic Center twice a week. Most of the time students are outside but if weather interferes, the students participate indoors and are again divided by homeroom. Much of the non-recreational parts of school still require the homeroom teacher's attention to keep students safe and distant.  
A positive aspect of hybrid learning are the benefits the on-campus classes have had on students. "It is much easier with the students who are on campus, I can see and hear what they need and refocus them quickly," Keffer said
Unfortunately, for students who remain at home it can go either way. "Students who are motivated and curious, and who have parents who are giving them structure, are doing fine," Keffer said. Many students have working parents who cannot devote time making sure their children are set up in class. If noticeable problems do occur, teachers at EA try to email parents and work on a schedule to make sure no student falls behind. 
"
I work from 7 a.m. to 10 p.m. every weekday, and often all day on a Sunday."
— Alison Keffer
Alison Keffer loves her students and loves to teach. Hybrid learning has not changed this passion, just made it more tedious. "I work from 7 a.m. to 10 p.m. every weekday, and often all day on a Sunday," Keffer said. Hopefully, the course of the pandemic will change soon to give students and teachers a break from the copious amount of work they are facing.  
About the Writer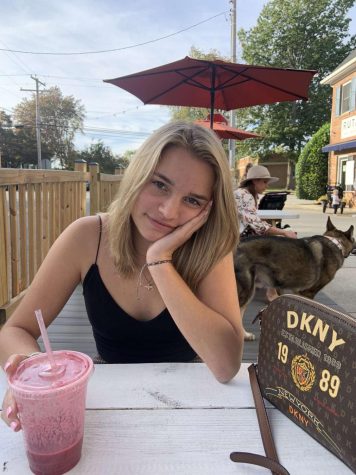 Sophie Krejci, Editor in Chief
Sophie really enjoys working out, dancing, listening to music, and reading. She's thinking of going into international relations. Her favorite food is...