Local businesses in Severna Park have adapted to Covid-19
The Covid-19 pandemic has caused many businesses in Severna Park including Park Tavern, St. Martins in the Field Daycare and Eco Adventures to have to adapt to the new regulations. 
Many students at Severna Park High School have jobs at local businesses, three of which are sophomores Raegan Turnbach, Olivia Blake and Isabella Barr.  They all work at businesses that have had to adapt to Covid-19 in different ways. One of the main regulations that has been hard to follow from the CDC is to keep a six foot distance, especially because they are used to talking and helping people at their jobs.
Turnbach is 15 years old and recently got her first job at Park Tavern back in September during the pandemic. She said that it was very hard to adjust at first because she had to wear a mask for long hours at a time, but now she is used to it. Park Tavern has taken the appropriate measures to keep both their employees and guests safe while also enjoying the restaurant.
"A mask needs to be worn at all times unless sitting down at the table, all tables are six feet apart and booths are only every other booth, Turnbach said. "Hand sanitizer stations are all over the restaurant and we need to fill out health sheets where we take our temperature before every shift we work. Restaurant capacity was also recently limited to only 25% so every time a customer walks in we count them so that the capacity does not go over 65 people," Turnbach said. 
Blake has also had a hard time adjusting at first, especially working with young children at the St. Martins in the Field Daycare. However, she also says she has learned a lot from working during Covid-19 and her experiences will influence her career choices in the future.
"The school hasn't ever had a large number of students, usually not even 20 kids per grade, so they did not have to adapt numbers," Blake said. "They take the temperatures of kids every day and every person in the building has to wear masks and stay socially distant. They make sure to encourage this with students and staff." 
Barr has also had to adapt to new regulations for her job at Eco Adventures which helps children learn about local and exotic animals. 
"I work at Eco Adventures and I mostly help out with the kids who attend school at the facility since parents have to work and kids have a space at Eco Adventures," Barr said. "Covid masks are required to enter the building and everyone is socially distant. We have air purifying fans to circulate the air and only verified people are allowed to enter the building." 
When Eco Adventures closed down back in March, they had to come up with new ideas on ways to continue running while keeping socially distant. While installing regulations such as wearing a mask, this local business also converted their rooms into classrooms during the day where parents can leave their children while at work. Their employees help the children with their schoolwork during the day and during breaks they give animal lessons or have the children help with animal care.
About the Photographer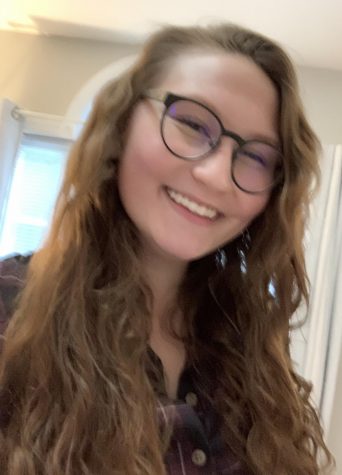 Julia Owens, Staff Writer
Julia is a Junior at SPHS and this is her third year writing for the Talon. She is a Staff Writer and likes to write about school sports and issues that...