Split Ends Salon
A great place to get your haircut, local hair salon in Severna Park.
Split Ends is a beauty salon in Severna Park Plaza and is also the salon I have been getting my hair cut at for about ten years. Split ends have always done a decent job cutting my hair, no matter who the stylist is.  
Split Ends salon offers services such as haircuts, coloring, waxing, and makeup. While a little on the pricey side, the salon always delivers on cute haircuts and stylish highlights. Moreover, the stylists are always knowledgeable on the proper shampoos for maintaining healthy hair and can fix all your hair issues. Amid the pandemic, the salon requires bookings before entrance, but it has not stopped them from delivering their cute cuts.  
Something that always stands out to me when I go to Split Ends is the friendliness and content manner of the staff. Every stylist I have gone to, makes conversation and makes clients feel comfortable. The staff themselves are remarkably close and enjoy perfecting your look.  
For the past couple of visits, I have been going to my new stylist Kaitlyn, who delivers on whatever hair I want. A couple of months ago I considered highlights because my hair gets darker in the winter, and I wanted it to stay light with the sun of summer. However, I was afraid of the unnatural, streaky that sometimes happens. My concerns were thrown out the window when I saw the result, natural looking highlights. Soon after, several of my friends questioned where I got my hair done and who my stylist was. I just went back the other week and got a lot of hair trimmed, and I do not regret my decision.  
My suggestion gets your haircut at Split Ends Salon. They keep your hair, brows, lashes, etc. happy and healthy the stylists love their job and make sure to give you the haircut you want. It is a Covid-19 safe salon, with several precautions to prevent spread. Schedule your next appointment for a quality cut.  
About the Writer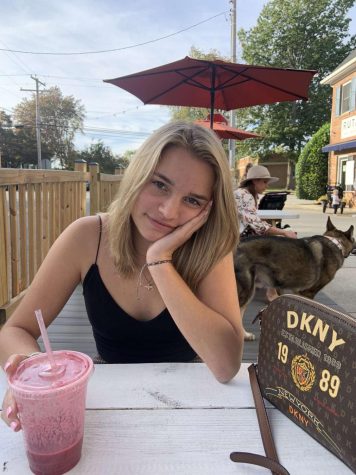 Sophie Krejci, Editor in Chief
Sophie really enjoys working out, dancing, listening to music, and reading. She's thinking of going into international relations. Her favorite food is...