"Cold War" Review
Opinion on "Call of Duty Cold War," made by Activision and Treyarch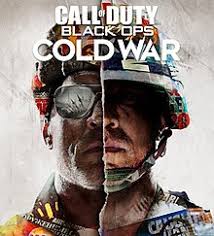 "Call of Duty," a first person shooter game set in the past, present, and future. A large well known game legacy, going back to the 2000, and still popular to this day, with "Cold War" being the newest release, after "Modern Warfare, " which was released in 2019.  After the controversial love and hate for "Modern Warfare," "Cold War" was a game changer. People love the game, but that doesn't mean the game is perfect. 
The Campaign
The first thing we will focus on is the campaign of the game. "Call of Duty" games are always designed in this format, there is a campaign, the story part of the game, the multiplayer, and the extra zombies survival mode. The Campaign is very well done, having it feel like older "Call of Duty" campaigns with its non stop action filled story, and fan favorite characters coming back to play a part, while connecting the other games to "Cold War," creating a storyline that is followable. They do this while also adding in new features, like getting to choose what your character says in some parts of the story, which gives the gameplay a fresh new feeling, maybe you dont wanna shoot your way out of a situation, maybe there is a more simple approach. The story takes place during the cold war and is about a special ops team who have to uncover a secret soviet and nuclear threat before the world is in danger. The campaign is a joyride for fans old and new.
The Multiplayer
While the multiplayer is fun, it comes with some cons. The weapons are fun to use, no matter what weapon you pick, and the leveling up system is back with prestiging, meaning if you reach rank 55, Your rank resets to level 1 prestige 1, and so on. This gives players like me the feeling to keep playing, to increase my rank and get better. This is what we call replay value, and most good games have this. One problem; however, was also a pro. Some weapons outclass other weapons, meaning they are better in any fighting situation, both close quarters and long distance fights, making the weapons overpowered. This can feel annoying when every game of multiplayer has that one guy who abuses the power of the weapon and runs around the map killing everyone, and speaking of maps, that brings us to the second con, the maps. Before loading into a match of multiplayer like team deathmatch or capture the flag, you get to vote for a map, a setting. Some maps are great, both teams have good respawn points, there is an area on the map where its close quarters for fast action, and there is a wide open area on the map for long range battles, and the map has multiple routes to take to find the objective. This is in my opinion, the base design of a good map. There are maps like this in "Cold War," an example would be a map called satellite.  It has all of the qualifications. Then you get maps like Miami, where the spawns are terrible, there are barely any routes to take so the flow of the map is terrible, and the entire map is a long distance, so anyone trying to run around will get picked off from a distance fight. The maps need better flow to them, not all of them are bad, but some aren't worth voting for. The final con is for lag. Sometimes there are moments where the game will lag, bug out, and or crash. You'd think that the studio and development team, Activision, would actually have learned from every other "Call of Duty" game they have made, but nope, they make the same mistakes here in "Cold War" with bad servers. Luckily this is an easy fix, so hopefully, bug fixes are on the way.
The Zombies
 Zombies are very big to the "Call of Duty" community, it is popular in every game it's been in. Well, it has to be one of the best parts of the game. Zombies started in "Call of Duty's" popular rise, with world at war bringing zombie modes into the game as a joke. But since then, every "Call of Duty" game has always had the great four player co op experience that is zombies. Everything from the old zombies has been brought back in "Cold War,"like the power ups, weapons, designs, and not only brought back, but touched up and given special designs to fit the original design astheitch of "Cold War." Zombies is more a fun survival game mode where you see how long you can hold out against never ending hoards of the undead, and if bored, have friends and want a fun time, or is an old fan, then zombies will be perfect for you.
Final Thoughts
"Cold War" has great potential, with the amazing campaign, the fun multiplayer, and the classic zombies experience, but needs touch ups on some parts, like lag, or how the weapons are, and hopefully as the game goes on, the developers at treyarch studios and Activision will continue to add new content to the game in the future. The game can be bought either digitally off of game websites such as "Steam" or the "Xbox Game Store" or it can be purchased in disk form at stores like "GameStop."