Iron Rooster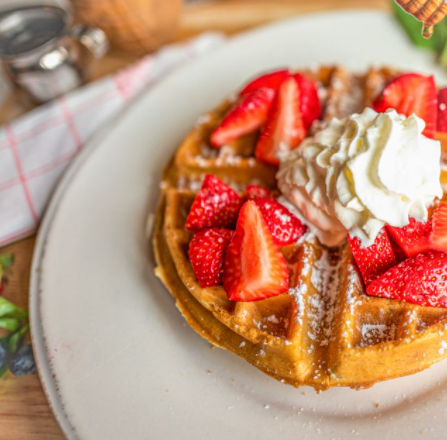 Iron Rooster may look like your average restaurant but this restaurant is known for its breakfast all day menu, where you can order breakfast for lunch or dinner. It has great service and is right next to the water. 
The food was good and at an affordable price and unique from other breakfast foods in Annapolis. For example on the Big Belgian Waffles they put a spiced maple bourbon butter on top with some powdered sugar which gave the waffles more flavor. They give you the option of putting fruit on top like bananas, blueberries or strawberries. Their food is worth the wait at Iron Rooster.
The service at Iron Rooster is efficient and well organized. All the workers were so nice and none of them appeared to be grumpy or annoyed at all. There are some new rules at Iron Rooster because of COVID-19, for example they added a tent outside of the restaurant to give more options for seating so that not everyone is seated inside in an enclosed space, and people can get more fresh air. 
The prices at Iron Rooster are affordable. Most restaurants in Maryland including Charleston Restaurant and The Capital Grille have prices that can go over $100 while Iron Rooster has prices around $15 which may seem a little pricey to some people but it is worth it. For example the Big Belgian Waffles cost $11.95.
Overall Iron Rooster is a great restaurant to go to with your family or friends, it is very welcoming and easy to get food at great prices. Iron Rooster is a restaurant that many would recommend to anyone to get breakfast or any meal of the day.