"To All The Boys I've Loved Before" Movie Review
The movie, "To All The Boys I've Loved Before," hit theaters in 2018 but is still popular today and brings up a valuable life lesson highlighting the importance of getting out of your comfort zone.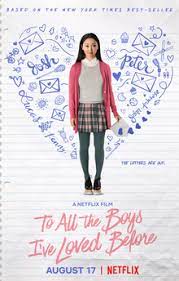 "To All The Boys I've Loved Before" was a likeable hit when it got to cinema in 2018 and rightfully so- with wholesome characters and scenes, and the overall lessons that the movie emphasizes- "To All The Boys I've Loved Before" is a movie worth watching.  
The movie is a romance comedy that begins with Laura Jean Song Covey (Lana Condor), the main character, daydreaming about her sister's boyfriend. Yes, this is a little strange. However, she explains this seemingly socially unacceptable situation explaining how she was best friends with her sister's boyfriend before she started dating him. "To All The Boys I've Loved Before" was based on the book written in 2014 by New York Best Selling Author: Jenny Han. The book and the movie are similar with varying, small differences. For example, in the movie the scene is set in Oregon but in the book the scene is set in Virginia. Also, in the movie Peter drives a Jeep where in the book he drives a Mazda (not too big of a deal). Even with the small differences the movie and the book have, fans were still ecstatic to see it hit screens.
The movie's plot revolves around Lara Jean being the fake girlfriend of the very popular Peter Kavinsky (Noah Centineo), in hopes of making his ex-girlfriend, Gen (Emilija Baranac), jealous, and to get Laura Jean over Josh (Israel Broussard) who was her sister's boyfriend. Laura Jean's sidekick, Chris (Madeleine Arthur), is a spunky standard-defying girl- the complete opposite of Laura Jean, a diligent, careful character rarely taking chances until she meets Peter.  
The conflict that the movie presents is when Laura Jean and Peter start developing real feelings for each other in spite of their so-called "fake" relationship. The beautifully clear scenes of the seasons changing, and the development of the characters: Laura Jean getting out of her comfort zone, Peter showing off his kind side, and Laura Jean's sisters growing up, the movie presents time in an alluring and graceful way. 
Overall, fans were pleased to see the up-and-coming actors on screen and with the crystal clear cinematography and wholesome scenes, "To All The Boys I've Loved Before" made for an extravagant movie.