The First Improv Show in the Black Box
With the old shows ranging from being in Ms. Germanos' room to the old auditorium, the new black box theater was a big step up. With captain Sam Hickman the show was one not to forget.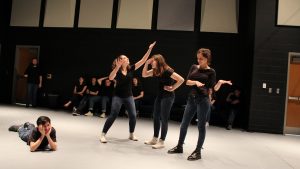 The show had skits ranging from "Kick It," a game where the actors, Sam Hickman, Nick Moy and Matt Hall would rap about their problems working in the trash industry and the things you find. In the game "Occupation," all the actors made jokes about Disney princesses and pilots and it showcased their strengths as group.
The highlights include the Hidden Valley girls which was a skit where Nick Moy wanted to get a group of chicks (Olivia Lewis, Josie Horrell and Lauren Carlson) to like him by getting a 62 ounce bottle of ranch. The skit featured many dramatic mood changes and had the audience in tears laughing. Another highlight was the Vacation Pictures act when Lauren Carlson, Lauren Foster, Nick Moy and Josie Horrell acted out Michael Bateman's and Gordon Mutch old vacation photos. This stood out because Gordon Mutch and Michael Bateman had a close bond on stage while the other actors stayed in wild positions for long periods of time.
The team is very in sync this year and they have wonderful comedic timing. Every time the group as a whole were on stage, the audience perked up. The wonderful thing about Improv
is that there is audience participation involved. They did an Oscar's themed skit and the audience got to pick awards such as "sweatiest actor" and "fastest fight" where the actors refined their fake show "MeatHead" to fit the random awards. In the past during some of their shows their would be awkward pauses or the audience would be silent for a stretch of time but this show was very engaging to the point where you felt it was almost on a professional level.
If you missed out on this show, luckily there will be another one in the Spring before the seniors graduate. If you ever want to see them in action or join in the fun, they meet after school on Tuesdays and Thursdays.