Fall Recipes to get you in the season spirit
Pumpkin Gingerbread (Allrecipes.com)
3 cups sugar
1 cup vegetable oil
4 eggs
2/3 cup water
1 (15 ounce) can pumpkin puree
2 teaspoons ground ginger
1 teaspoon ground allspice
1 teaspoon ground cinnamon
1 teaspoon ground cloves
3 1/2 cups all-purpose flour
2 teaspoons baking soda
1 1/2 teaspoons salt
1/2 teaspoon baking powder
Preheat oven to 350 degrees F (175 degrees C). Lightly grease two 9×5 inch loaf pans.
In a large mixing, combine sugar, oil and eggs; beat until smooth. Add water and beat until well blended. Stir in pumpkin, ginger, allspice cinnamon, and clove.
In medium bowl, combine flour, soda, salt, and baking powder. Add dry ingredients to pumpkin mixture and blend just until all ingredients are mixed. Divide batter between prepared pans.
Bake in preheated oven until toothpick comes out clean, about 1 hour.
Cranberry Pumpkin Muffins (Allrecipes.com)
2 cups all-purpose flour
3/4 cup brown sugar, packed
2 teaspoons baking powder
1/4 teaspoon baking soda
1/2 teaspoon salt
1 teaspoon ground cinnamon
1/4 teaspoon ground ginger
1/8 teaspoon ground cloves
1/8 teaspoon ground nutmeg
1 cup canned unsweetened pumpkin puree
2 eggs, lightly beaten
1/2 cup butter, melted
1/4 cup buttermilk
2 teaspoons vanilla extract
1 cup dried, sweetened cranberries
Preheat oven to 400 degrees F (200 degrees C). Grease or place paper muffin cups in a 12 cup muffin tin.
Mix the flour, brown sugar, baking powder, baking soda, salt, cinnamon, ginger, cloves, and nutmeg together in a mixing bowl.
Beat the canned pumpkin, eggs, butter, buttermilk, and vanilla together in another large mixing bowl. Gradually beat in the flour mixture until well blended. Stir in the dried cranberries until evenly blended. Spoon batter into muffin tins about 3/4 full.
Bake in preheated oven until a toothpick inserted in the middle of a muffin comes out clean, 20 to 25 minutes. 3 minutes before turning out from pan. Serve warm or at room temperature.
Cinnamon Pumpkin Waffles (Allrecipes.com)
1 cup whole wheat flour
1/4 cup wheat germ
1/3 cup white sugar
1 teaspoon ground cinnamon
1 teaspoon pumpkin pie spice
1/2 teaspoon ground nutmeg
1/2 teaspoon salt
1 tablespoon baking powder
3/4 cup milk
1/2 cup pumpkin puree
2 tablespoons melted butter
2 tablespoons olive oil
1/2 cup unsweetened applesauce
1 egg
1 egg white
Preheat a waffle iron according to manufacturer's instructions. Combine flour, wheat germ, sugar, cinnamon, pumpkin pie spice, nutmeg, salt, and baking powder in a bowl. Set aside.
Beat together milk, pumpkin puree, butter, oil, applesauce, whole egg, and egg white. Stir flour mixture into the pumpkin mixture along with the pecans.
Ladle the batter onto the preheated waffle iron. Cook the waffles until golden and crisp, 5 to 7 minutes.
About the Writer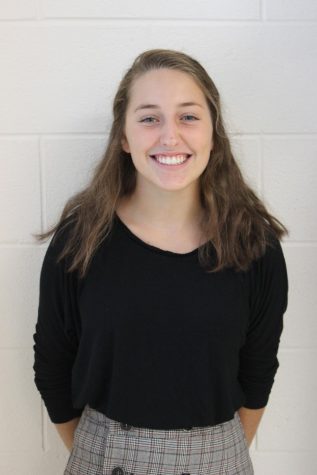 Melanie Reynolds, Opinions Editor
Melanie Reynolds is a senior and has been writing for the Talon since her sophomore year, she is currently the Opinions Editor for the print edition. Outside...