Winter Dancers
Dancers at Severna Park High School have been practicing for hours on end to deliver a successful winter dance show this year.
The Severna Park High School dance team is currently practicing for their winter dance show, which is held at Severna Park High School in December.
The show will include performances by Dance Company levels 1-3, as well as other dance classes. Each dance is choreographed by a student choreographer or the director, Mrs. Witting, and the audience can expect to see contemporary, hip hop, jazz and musical theater styles.
"The shows are really fun and it's a good bonding experience," senior Genevieve Sampson said. She is a member of Dance Company 2 and also dances outside of school at The Dance Collective in Millersville.
There are hours of practice that go into preparation for the dance show, but this only heightens the dancers' excitement. "I like being with my friends and trying different styles of dance. It's a fun environment to be in," Sampson said. 
"
"I like being with my friends and trying different styles of dance. It's a fun environment to be in."
— Genevieve Sampson
However, for some athletes, training means injury. Freshman Nick Garvey has achilles tendinitis, an overuse injury of the Achilles tendon which connects the calf muscle to the heel bone. He is on Dance Company 2 and has been dancing for four years.
"The pain is still there but it's better," Garvey said.
Dancers often have to work through the pain of their injuries. They practice with tendinitis, sprains and pulls, but push through it for the reward of performing.
"You just have to be a little bit more careful but you can still dance," junior Sarah Kalafos said about injuries. She is on Dance Company 2 this year. She has been doing dance through musical theater for most of her life, and started taking dance lessons in middle school.
As advice to people trying out for dance company next year, Kalafos said, "Just do it, even if you don't think you're good. If you just like to dance and it shows then you can learn a lot on dance company. Don't be afraid of it."
About the Writer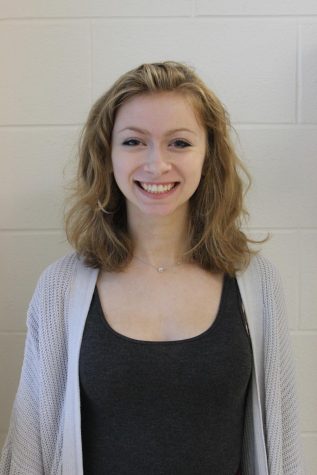 Emma Jeter, Staff Writer
Emma Jeter is a senior at SPHS. Jeter is a member of National Honor Society. Outside of school, Jeter works at the Severn Inn in Annapolis as a hostess....