Camryn Chew: The rising star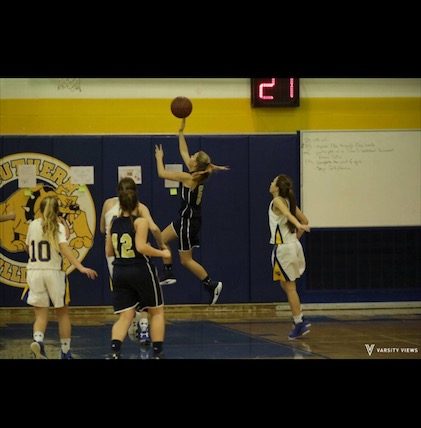 Hang on for a minute...we're trying to find some more stories you might like.
Although she is best known for her goal-scoring skills in lacrosse, sophomore Camryn Chew is also an unstoppable basketball player. Being pulled up to varsity in both sports, Chew excels at basketball and lacrosse.
Chew began playing basketball for Green Hornets when she was in kindergarten and has stuck with the sport ever since. She made junior varsity her freshman year and was a starter all season. As point-guard, Chew uses her ball-handling skills to carry the ball down the court. "I really like scoring but my favorite part is playing defense," Chew said. Although basketball is not her main sport, Chew's hard work helped her get pulled up to varsity for playoffs. Being one of the two freshman pull-ups, Chew was nervous when she first started playing with varsity. "Varsity had an entire different feel to it, but I adjusted pretty quickly," Chew said.
Chew's main sport, lacrosse, is something she has been doing since before kindergarten. She played for Green Hornets every year up until high school. As a midfielder, Chew focuses on speed and getting the ball up to offense. "My favorite part about lacrosse is that I'm always moving and making decisions," Chew said. She played for junior varsity her freshman year, but got pulled up to varsity for play-offs. When she is not playing for SPHS, Chew plays club lacrosse for Maryland United. "I like playing year-round because I have all my best friends on the team," Chew said, "It will also help me get recruited for college."