Tragedy of a Clown | EP Review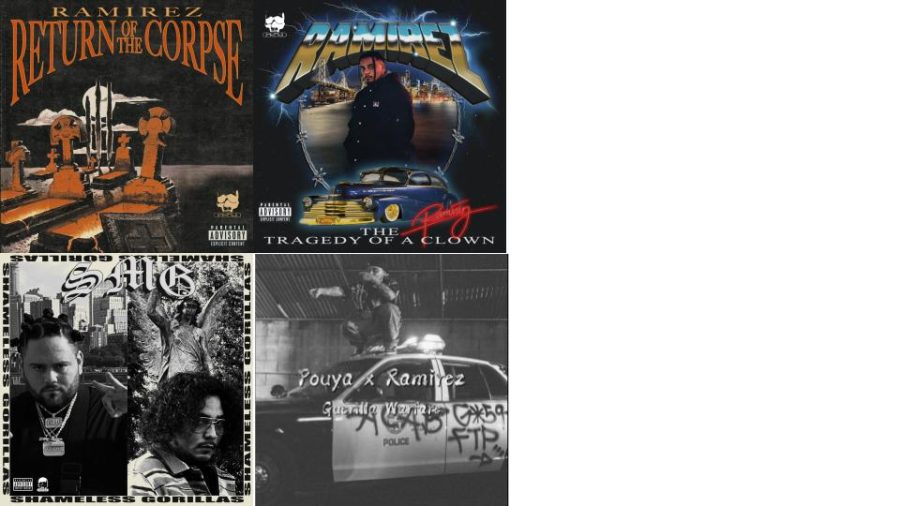 Tragedy of a Clown is Ramirez's tenth official project. His last release, THE PLAYA$ MANUAL, generated much discourse and accelerated his rise to increased commercial recognition. Before either of these albums, Ramirez was less active on the Internet and less open with his life. Now, posts about his significant other, his interests as well as life events in general are more ubiquitous on his socials like Instagram(this increased activity also seems to be a byproduct of tour & concert promotions, but it is still beneficial because it gives fans additional insight on various aspects of his life). The project is trap as well as slower boom-bap beats and finds a good mix between fast and slow paces.
Intro        Rank: 2/11
"The best thing about business is mindin' your own!"
"The darkness will fall, i bury them all. The void that I carry deep inside these walls, I'm leaving the death on the side of the road. Don't show no remorse, no, i'm passing it on. Look at my devilish grin, my sinister thoughts, they carry me through the abyss…"
One thing I love most about Ramirez is that despite the subject matter he tackles and the glorified depictions of violence and drugs in his music, he a "normal" person who pays taxes and struggles with his emotions and thoughts sometimes. The intro track is one of my favorite tracks on this project because it does a great job of setting the tone for the rest of the album. Ramirez is fully aware that his music is not for everyone, but it's something he has talent in and was meant to do. It doesn't matter if he's never world-famous and a lot of people dislike his music; he rhymes and creates because it's his truth, it's what he's lived throughout his life and it's perfectly valid for him to share that with the world.
Return of the Corpse       Rank:  4/11
The type of fast and zany phonk-trap beat on this single is arguably where Ramirez is most comfortable. His flow is impeccable and he throws out bravado-filled bars with a well-timed cadence. He also switches from an energetic, up-beat tone to a pessimistic monotone voice and then back again. It's a more "classic" Ramirez-style track that may appear to be more commercial. That does not detract from the track however and it is still ranked high on my list for the project.
Bacon, Eggs, and Grits        Rank:  1/11
"Energy on the rise, enemies get to die
Somebody gon' get victimized
I don't wanna meet the reaper yet, so I'm duckin' the drive-bys
Side-eyes that tell lies, I abide by the set laws of my guys"
This track is ranked very highly on my list because it was an unreleased single from an unkown amount of years ago and was teased one to two years ago by Pouya. He is the other rapper on the track who raps the second verse which adds a lot to the track, counterbalancing Ramirez's part earlier in the song. The unofficial name of the song is Guerilla Warfare which can still be found on YouTube. I much prefer the unreleased beat, but it is likely they could not release the track in that state due to copyright issues. I still like the new beat, and the song is overall fun and exciting to listen to.
The Dungeon       Rank:  7/11
"Buckshot, take a whiff of this deadly aroma…
Rippin' out your skeleton, leave witnesses in comas"
I do not really like this particular style of Ramirez as much as others on the project and it is abnormally explicit so it scores a little lower, but once again it is still a great song, especially when compared to some later entires. The beat is ominous and mischievous and Ramirez is in prime flow state. It is slightly underwhelming yet amusing.
Carhartt Vest        Rank:  9/11
This single features Germ, another rapper whose style is similar to the likes of Ramirez, Pouya, Shakewell, etc. This song is more bluntly supposed to appeal to the mainstream and strays from Ramirez's underground style.  The hook is repetitive and can be grating at times. I'm not a big fan of this track but the hype it built for the project when it released was refreshing. I don't hate it, but I don't like it much either.
What the Hook Gon Be        Rank:  11/11
Probably one of the most generic tracks on here, it is very repetitive and boring. The hook is literally just Ramirez and the features of Fat Nick and Shakewell asking what the hook is going to be, as the title suggests. It's not really creative and the features don't add too much of anything. Very weak and obviously a filler track so it is ranked low.
Six Feet Under        Rank:  5/11
"Lookin' at the crystal ball and all I see is misery
My words are fallin' on deaf ears and no one's really hearin' me
Stuck inside the box, writin' out my own obituary
Feelin' like a phantom, just duckin', bound for the cemetary"
This track involves darker lyricism and a mellower beat that pair well together. Ramirez sounds like he is dancing on the beat with his words, especially during the hook. It's a short, simple track that channels the EP's energy nicely while also creating its own identity in the tracklist.
The Root of Demise        Rank:  6/11
"Look in the mirror and don't recognize
I can't go on livin' while tellin' these lies
Rami livin', but it's not what it seems
Diamonds flashin' but my mind steady screams"
I really love this track; it is reminiscent of an older Ramirez song called Dear Diary and both are about Ramirez's failing mental health situation. It feels like the perfect length and has a melancholy, yet hopeful hook that is soothing to listen to. Definitely one of the better songs in the latter half of the project and shines amongst other filler tracks as the quality drops a little bit.
Murdered Out Vehicles       Rank:   8/11
"Puppet master pullin' strings behind the curtain
Comin' through my pit and it's your destiny, fulfill your purpose"
Ramirez solos this track very effectively. I believe he is best on songs by himself because he is in an impossibly high tier compared to his peers and he always performs better than them, even on features and short verses. I like this track a lot, but it's slightly weaker than the following track even though they are similar in structure. Still, it is really good and follows Ramirez's outward expression as opposed to his thoughts and internal expression.
The Gallows Wait       Rank:  3/11
"Make you meet your maker in a heartbeat from my deadly touch
You can go run and hide, no use, 'cause Rami's out for blood
Hear voices screamin', comin' from the shadows of abyss
Souls get devoured, them bodies vanquish and the serpent spit"
The Gallows Wait lacks a chorus/hook, but a hook is inconsequential when you have two masterful verses, similarly to Murdered Out Vehicles. This is another track that helps boost the album's overall score because Ramirez is once again in his prime in the second verse. The first two lines of the second verse are truly masterfully crafted and delivered and Ramirez just makes himself seem like a monster with his cadence, delivery, lyricism and well-picked beat.
Shameless Gorillas         Rank:  10/11
This is the final single of the project with its own graphic cover, and it's a nice track to wrap up the project. There's nothing too crazy about this song, but the transition from Ramirez's verse into Shakewell's is seamless and smooth. I also like the title of the track and how it ties in with Ramirez and Shakewell's perceptions that they are gorillas in human form. It is pretty generic and calm, it doesn't stand out nor overstay its welcome and overall it's decent.
Tragedy of a Clown is an amazing album with many tracks that succeed in hitting their mark or higher. It's very cohesive, even when playing on shuffle and is surely an enjoyable experience for those unfamiliar with Ramirez and even more so for long-time fans. My final score is 85/100 and it only loses points because of a couple weak songs/dip in quality in the second half and my personal gripe that Ramirez was not able to use the original beat on Bacon, Eggs, & Grits. I wish that Ramirez could keep the high energy consistent throughout the project that he sets the precedent for after the first three or four songs, but the outliers make the great songs even better.