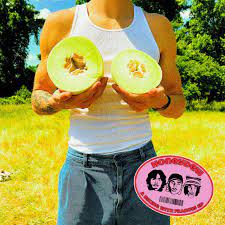 PEARLS
The project opens with "PEARLS", a mystical introduction about both the tangible and immaterial versions of pearls. The song starts off on the subject of the tangible form – the jewelry one wears around their neck – which later ties in with the more abstract theme of how people are pearls by the end of the song.
Bet she want to steal my jewelry
Lie and say she borrowed it
Saw the words was forming
But before they left her mouth
She stopped herself
And then swallowed them
The chorus consists of a three-word chant: Pearls dress down. These three words speak volumes about the writers' values and a possible interpretation is how shiny objects don't feel the need to impress others because of how bright they already are.
FRUCTOSE
"FRUCTOSE" opens with an impressive guitar riff and transitions to a more vocal, lyrical delivery from Joshua Raw in the first half. Mixed with a smooth, upbeat instrumental, this track melts negative emotions away like syrup on a hot summer day. The instrumental and chorus continue throughout the entire song, but the second half is a skit between friends deciding on their favorite summer fruit. Eventually, one group member mentions honeydew and everyone starts giggling. One of the more consistent-sounding songs in the mix, "FRUCTOSE" essentially performs the role of the title track while simultaneously sounding feel-good.
Story continues below advertisement
STOP BY
Although the chorus is slightly repetitive and drags out the song, there are a couple of clever verses from the perspective of a desperate guy who is plotting on how to get his crush to stay a little bit longer before she has to go home. It is the most generic song on the project yet maintains an enjoyable melody that makes the song catchy. It was stuck in my head before I even realized what was happening.
Please don't leave me
We not peachy keen
But the seeds growing
I'm gon' hide your keys
And waste your gas
'Till it's E or something
Stay one more day
Swear I'll change my behavior
Only losing time
Make your mind
Now or later
GO BACK!
The drum loop and surf-like guitar strums pair nicely with the track's rebellious lyrics to incite waves of nostalgic emotions for a line that many teenagers can relate to: wanting to stay out and let the fun continue forever. The artists address the irony and folly of writing love songs as well as other doubts or burnout they feel when creating music.
I don't really wanna go
Go home
Talking s— all on your telephone
Telephone
Take it all back
All back, yeah
I don't wanna go back
Go back
The opening verse speaks for young employees and workers who can think of millions of activities they'd rather be doing than working a summer job. The first four lines communicate a relatable frustration and seamlessly set up the next four to have that much more impact.
Boss man want me fired
But I quit instead
Said I'd get a raise
F— a fifty cent
Trading cash for minutes
Don't make any sense
I'd rather spend my summer
With her pitching tents
TYPE TIME
As the project's penultimate song, "TYPE TIME" would more appropriately be title "TYPE OF TIME" as it is said in the actual lyrics. "TYPE TIME" was released as a single on April 26 a couple months before the entire EP dropped. However, the importance of the title pales in comparison to the substance hidden within. The lyrics convey such a personal circumstance and train of thought that is unique to the artists. Even still, the ostentatiously lighthearted instrumental coupled with the singers' tones furtively work together with what the artists are saying to create a melancholic tone to help set up for the project's final experience.
Got me stuck between a wall and a hard place
Do we all gotta learn s— the hard way
And I never really mean it when I'm sorry
'Cause you stay flipping out like it's Maury
But I'll keep biking, biking
You run up your mileage, mileage
Where's your co-pilot, pilot?
Two seater driving, driving
AS SHE
The final track is comparable to the last week of summer. It can be considered a bridge in between the current and the next unreleased album and all the excitement and passion the prospect of something new and exciting can drum up. Just like summer. The beginning portion resembles the slow epiphany that school is almost back in session and it's time to go shopping. The middle part – the meat, the lyrics – represent suppressed or forgotten thoughts and feelings that are remembered when on the cusp of no longer existing. The second instrumental portion of the track and "dessert" portion sounds like cosmic energies swirling and gathering in a child's head the night before their first day of school for the year. The appreciation for what has been and the expectations for what's next. "AS SHE" is one of the better tracks on the EP and acts as a perfect outro for "Honeydew" and summer as a whole.
As she fades away
I plead with God to let her
Stay, stay by my side
Talking about life 'till nightfall
Packin' a geeb in my car
Fedex
You don't speak much
Prying to find where your head at
Not where your bed at
Don't wanna end my summer
Delete your number
Rather have a headless bimmer
Guillotine her
I'll park it in the meadow
Like f— a meter
Water flooding both my feet up
I'll leave my sneakers
Despite launching a week after summer began, Honeydew has stayed in my rotation for one and a half months now. Overall, it is reminiscent of other great works in the hip-hop/pop genres like Frank Ocean's Blonde or Tyler's IGOR but specific to the season. Additionally, Honeydew currently remains Biking With Francis' sole project and has a surprising amount of various other reviews online for a band with such a small following.
Final Score: 8.75/10