Trend or Fad? Fortnite.
Fortnite has captured the minds of many students across the country.
Hang on for a minute...we're trying to find some more stories you might like.
Every year new trends and fads appear in all sorts of forms; clothing, styles, how to act, what to say, and even video games. Fortnite, a video game created by Epic Games,  has become a new fad of 2018.
Although Fortnite was released on July 25, 2017, it did not catch on until the start of the new year. Since then, many teenagers and young adults, especially males, have been captivated by the competition of killing one another.
In this game, there is two different game modes, the most popular being Battle Royal. In this mode, it is a 100 player-versus-player situation where you try to be the last player standing. There are different strategies to doing this including hunting down other players, or play conservatively and wait for the other players to get eliminated. Across the map there are materials that can be picked up to build, heal, or attack other players. The second mode is Save the World in which teams of players guard an area from zombie creatures. "The competition among the players  needs skill, and it fun to get better after playing for awhile," a fellow Fortnite brethren Aaron Kent said.
Since the exploitation of the game, many people have publicized their wins on social media showing off their skill. "When the game first got well-known, you would post it on snapchat or other places, and it gained you respect on the game," Kent said, "But since everyone has been playing on the game for awhile, many people have gotten good, and posting your win on social media has just become annoying."
Many people still play the game and love it. "The game is actually so good and fun," sophomore Wes Winkler said, "I hope this fad stays for a while because I enjoy playing it." The game seems as if it is here to stay, so don't expect the winning photos on social media to go away anytime soon.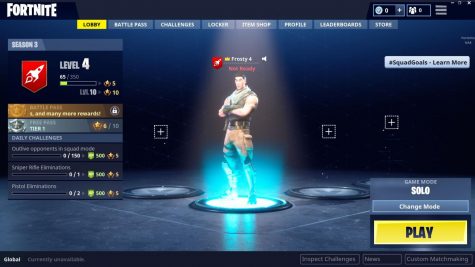 About the Writer
Shelby Chasser, Editor in Chief
Shelby Chasser is the Editor-In-Chief for the print edition of The Talon, and this will be her third year a part of the newspaper publication at SPHS....