Annapolis Junior Rowing
A Fascinating Sport Just Outside Severna Park
The sport of rowing, widely known around the world, is a sport of physical endurance, technique and teamwork. The most common boat has eight rowers and a coxswain. With the guide of the coxswain commands and practiced technique of the rowers, opposing teams can race each other in what is known as a regatta.  
 Annapolis Junior Rowing (AJR) is a co-ed club of teenagers, who meet six days a week to practice this sport as it is not offered at many schools nearby. However, the club is very similar to sports teams found at SPHS: they practice every day, have team dinners and participate in competitions. Many students from Severna Park High School are a member of Annapolis Junior Rowing. Junior Maddy Fangio rows with AJR year-round. She joined rowing her first day of sophomore year and is now on the varsity girls' team, who she competes with in regattas.  
"It is very physically taxing but fun, it is so therapeutic. When I'm on the water all of my problems just disappear," Fangio said. 
Bridget Laszewski is a physical education teacher at Southern High School who coaches AJR in her afternoons.  
"I coach at AJR because it is one of the only youth programs in the area, and it's known nationally. The respect that every athlete has for each other, the staff, and for the parents makes the team such a family," coach Laszewski said. 
She also describes rowing as a difficult sport but in a rewarding way. "It's challenging but through those challenges you really learn a lot about yourself and how much you are willing to push," Laszewski said. 
A few weekends ago, from October 19-20th, AJR sent their varsity boats to the 55th annual Charles Regatta. This regatta took place on the Charles River which separates Cambridge and Boston, MA. It is the second largest regatta in the world, with over 11,000 participating athletes and is a great opportunity for AJR to take their club to the next level.  
"I was super pumped but also super scared because it was live streamed and there's colleges, but it was also really fun," Fangio said.  
AJR placed 52 of 85 teams at the Head of the Charles in Boston, MA.  In Head of the Schuylkill, in Philadelphia, PA, AJR placed 10 out of 50 teams, even after being hit by a boat. 
"We were going, and another boat cut us off.  We were going to pass them in the inside and they are supposed to yield, but they didn't.  And they cut us off, and we hit them.  Because of this, we had to stop rowing for like 20 seconds, which is really bad.  Then they went out of the course, and when they came back in, they cut us off a second time.  It was so annoying.  We still got 10th place, which is really good, but we probably would have gotten 6th or 7th if we hadn't had the incident," Fangio said. 
About the Writer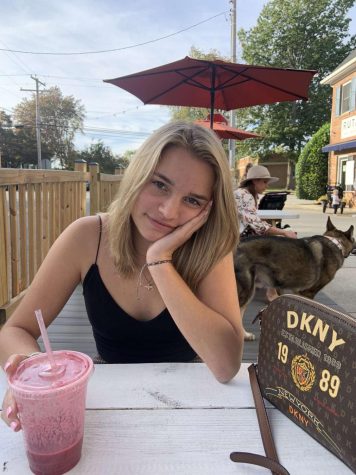 Sophie Krejci, Editor in Chief
Sophie really enjoys working out, dancing, listening to music, and reading. She's thinking of going into international relations. Her favorite food is...