Should Girls Break Down Football Barriers at SPHS?
SPHS varsity football players weigh in on girls playing alongside them.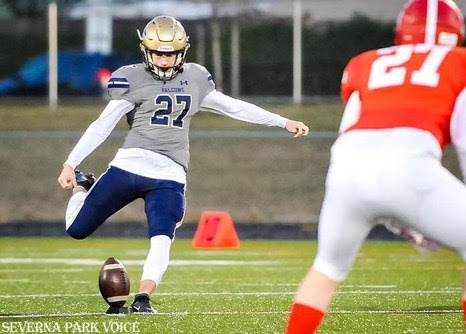 On Saturday, Nov. 28, Vanderbilt senior Sarah Fuller made history by becoming the first woman to play in a top Division 1 football game. Two weeks later, she became the first woman ever to score a point in a D1 football contest. Seeing women like Fuller break down sports barriers in college makes us wonder if we will begin to see similar occurrences in Severna Park High School sports. Surely some girls would rise to the challenge in getting to play with the boys, but how would SPHS varsity football players feel if there was a girl vying for their spot at the next tryout?
Since the entire varsity football team is made up of men, the question of whether or not a female would shift the team atmosphere if she were to make the cut becomes part of the conversation.
Because this topic has only recently been brought to the forefront of athletic discussions, the opinions of the varsity athletes are split right down the middle.   
"I do think having a girl on the team would impact the environment because it is a unique situation," senior wide receiver and defensive back Jimmy Patz said. "Either way, though, she would be one of our teammates, so gender doesn't really matter."
Seeing as this shift has not occurred yet in our high school, many players have difficulty anticipating what it would be like if a girl did join them on the field. 
"
I can't say whether [the impact] would be positive or negative until it actually happened. I think it would definitely open people's eyes to see that sports are for all people and aren't limited to any one person,"
— Aidan Milewski
Hypothetical or not, the idea of it is not all that uncomfortable for the current kicker for SPHS.  "Having a girl on the team would be different but cool," junior Trey Smack said. "The community would find this a great way of showing diversity."
Some members, however, don't think that the opposite gender wearing a falcon football jersey would have an affect on the overall dynamic of the team on and off the field. 
"A girl would not impact the environment," junior reviver Matt Marcantoni said. "Everyone has a job on the team and if she does her [job] then she will be just like everyone else."
Not only does everyone have a job to do, but the squad members' only goal is victory, and whoever will help them get there would be welcome on the field alongside the rest of the varsity athletes. 
"Everybody wants to win and if she made the team, she's clearly good enough to play with us," senior fullback Sean Foreman said. "Any girl that is interested in trying out should do it because if they are good enough they will get a spot on the team because the coaches only put people who they think are the best, regardless of gender.
If there are any interested females wishing to take the first step towards breaking athletic barriers in Severna Park, it sounds like the current varsity football team welcomes the challenge.
"I would tell a girl who is interested in trying out to go for it," Milewski said. "Don't worry about what anyone else will say or think."