A Home Away From Home
Texas Roadhouse: the best restaurant in America?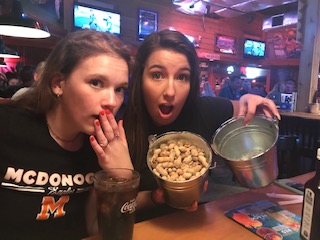 Nick Ivey, Staff Writer
October 17, 2019|104 Views
Although Texas Roadhouse didn't originate in Texas, and isn't actually a true roadhouse, fans from miles around make the voyage to get a taste of their incredible steaks and their outstanding appetizer buns. 
On a brisk Wednesday evening, I ventured out to this legendary location for a meal with some friends, where we decided that the restaurant deserves some recognition for it's flavorful food, friendly staff, fun atmosphere and this particular location we went to is the closest one we know, in Pasadena, MD. 
It has been proven over and over to be a haven for those who are looking for a break in their busy lives. "It's the only place that really accepts you for who you are. You could be a farmer, a fireman or even a Wall Street businessman; but once you walk through those doors, you're home," senior Hannah Hall said. 
Upon entering the building, we were immediately hit with the scent of freshly baked buns and grilled meat. Our waitress grabbed menus for us almost right as we walked in the door, and grabbed some steaming hot buns for the table. The buns were soft and fluffy, and the cinnamon butter they came with was divine. Just a hint of cinnamon and sugar in your butter makes all the difference.
"Texas Roadhouse is my home away from home. I've never felt more welcomed by an establishment. Once a week I am greeted by fresh hot buttery buns and sexy waiters. I live for that chicken critter salad," senior Lacey Ordakowski said.   
Throughout the building was a collection of eclectic artifacts, which included but was not limited to taxidermist animals and bright neon signs, showing their obvious pride of their favorite state. They also had a neon jukebox. 
"That place is my escape. It's everything to me. The fun times, the peanuts, the huge diet coke, the freezing bathroom, loud music and the sorta hot waiters are why I seem to go everyday. I'll never forget my times there," senior Grace Roden said. 
Our food arrived at our table in only about ten or fifteen minutes, which went by quickly, as we spent some time conversing with waiters, plowing through two plates of delicious buns, and eating our fair share of free peanuts, which were situated at every table. I ordered an eight ounce sirloin steak and fries with a side house salad, which came out to $13.49, which isn't terrible for a meal that felt like it could serve two people. Their portions were huge (which in my opinion is always welcome) and all of it was mouth-watering.
The sirloin was juicy and tender, with a bit of fat to keep the flavor packed inside. It had a beautiful black criss-cross char on the outside. Their steak fries were simple, but because the steak was so incredible it didn't matter. The house salad wasn't overdressed and it was a nice break from the protein and starch and get some greens in me. 
This not-so-Texas, not-such-a-Roadhouse has got to be one of, if not one of the best restaurants in the area, attracting people from far and wide to eat their food, enjoy their decor, and to have a great time with family and friends.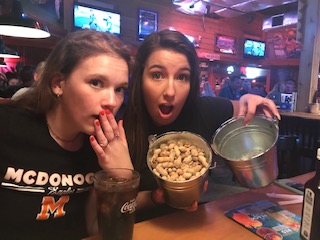 About the Photographer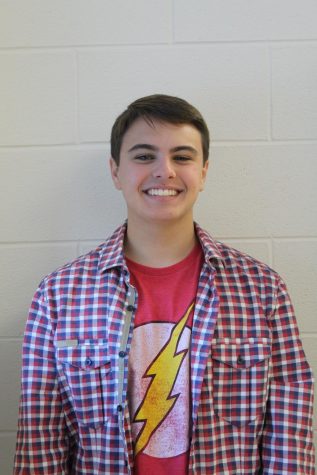 Nick Ivey, Staff Writer
Nick Ivey is a junior at Severna Park High School and this is his first year working on the Talon newspaper. He enjoys theatre, music, and reading in his...