The Best Recipes for the Fall Season
Three easy and delicious fall desserts for people with a sweet tooth.
These are three simple and comforting fall desserts for people who don't like complicated recipes. Make this for your family to enjoy after a big Thanksgiving feast or for a Friendsgiving, they definitely hit the spot.
SIMPLE PUMPKIN CHEESECAKE
INGREDIENTS
:
1 cup of crushed graham crackers or premade crust pan

¼ melted butter

32 oz or 4 8oz packages of cream cheese

1 ½ cup of white sugar

2 tbsp of cornstarch

2 tsp of vanilla extract

4 large beaten eggs

1 cup of canned pumpkin

2 tsp of cinnamon

2 tsp of nutmeg
DIRECTIONS: 
First preheat oven to 350 degrees

Use a greased pie pan

In a small bowl combine graham cracker crumbs and melted butter, then firmly press into the bottom of the pan to mold the crust layer

Bake crust for 8-10 minutes or until crust is set

In another bowl, combine one package of cream cheese and ½ cup of sugar and cornstarch until smooth. Then mix in remaining cream cheese one package at a time until smooth.

Add the remaining 1 cup of sugar and vanilla, add the eggs and beat.

Add 2 cups of the filling into a bowl and stir in the cinnamon, pumpkin, and nutmeg. Remove ¾ cup of the filling and set aside. Then pour the rest of the pumpkin over the crust followed by the cream cream cheese filling.

You can swirl the pumpkin around with a knife to create a swirl design

Bake for 55-60 minutes and cool on rack for 10 minutes

Refrigerate overnight

Enjoy with ice cream or pumpkin cookies and enjoy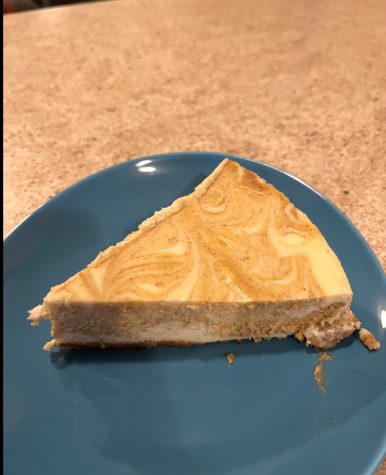 MOIST APPLE SPICE CAKE
INGREDIENTS:
1 3/4 cups of sugar
1 cup of melted butter or vegetable oil
3 eggs
1 tsp vanilla extract
2 cups of all-purpose flour
1 1/4 tsps of baking powder
1 tsp salt
1 tsp of cinnamon
1/4 tsp of baking soda
2 cups of finely chopped and peeled apples
DIRECTIONS:
Preheat oven to 350 degrees
In a large bowl mix sugar, vanilla, and eggs until well mixed.
Then combine the flour, salt, baking powder, baking soda, and cinnamon into the first mixture and until well blended. Then add in chopped apples.
Transfer mixture into a greased baking dish and bake until inside is cooked thoroughly, you can check by sticking in a knife and making sure its clean.
Let cool on a rack
OPTIONAL: Add caramel syrup and whip cream and serve with vanilla ice cream for maximum satisfaction
SUPER EASY APPLE PIE ROLL UPS (The easiest it gets!)
INGREDIENTS:
Pillsbury Crescent dough can
Melted butter
1/2 Brown sugar
1 tbsp Cinnamon
1/4 White sugar
Thinly sliced apples
DIRECTIONS:
Preheat oven to 375 degrees
Set out a baking pan and lightly on cooking spray
Mix brown sugar, white sugar, and cinnamon in a small bowl
Remove Pillsbury dough from can and separate crescents
Brush a light layer of melted butter onto the crescents
Sprinkle a layer of sugar mix onto the crescents and add the thinly sliced apples onto half the crescent
Roll up crescents and make into a mini croissant
Top with a layer of melted butter and sugar mix
Bake in oven for about 8-10 minutes or until golden brown
Serve with vanilla ice cream and enjoy