There's a National What Day?!
Here's a list of some of our favorite silly holidays!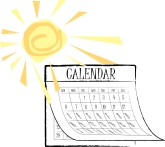 To liven up summer a bit more, there are some crazy national holidays. We all know July 11 (7/11) as Free Slurpee Day, but did you know that there is a day dedicated to juggling? Read below to find out some more funny national holidays.
July 4: International "Fry an Egg on the Sidewalk" Day
On this day, people venture out in the scorching heat to crack an egg on the nearest piece of concrete to create the perfect sunny side up. However, it is recommended to cook an egg on a piece of metal or tin foil such as the hood of a car. If you decide to try it this summer, make sure you do not eat your sidewalk egg.
July 31: Uncommon Instrument Day
Bust out your didgeridoos and banjos to participate in Uncommon Instrument Day. This fun holiday is used by many to showcase their exotic cultural instruments that many people may not know.
August 9: Book Lovers Day
Although an unofficial holiday, Book Lovers Day aims for everyone to pick up their favorite book and read for the day. There are some health benefits to reading regularly such as reducing stress, keeping the brain sharp, and better sleep.
August 17: Thrift Shop Day
If you enjoy vintage clothing at low prices, check out your favorite thrift store on August 17. Many stores donate profits to good causes such as children's hospitals and homeless shelters. If you do participate in thrift shop day, remember to leave enough clothes for everyone else.
September 4: Eat an Extra Dessert Day
Grab your spoons and dig into a second helping of ice cream on this Saturday in September.  Indulge in a little more dessert in order to celebrate a day made for those with a sweet tooth.