Ice Hockey Q&A
An inside look into Severna Park's under the radar sports team.
Hang on for a minute...we're trying to find some more stories you might like.
The SPHS ice hockey team is not an official school sport, but that does not stop the players from working hard to have the best season possible. Junior Connor McGrath and senior Daniel Seeman answer your pressing questions about the sports team. "It's kind of an unknown sport, it's not really advertised through the school," McGrath said.
How often does the ice hockey team practice?
"We practice twice a week and have a game once a week," McGrath said.
How many players are on the team?
"There are 20-25 boys on the team. About 20 people dress for the game, there's five players on the ice at a time, and also a goalie," Seeman said.
What does playing ice hockey require?
"You have to know how to skate. It's the most important part of the sport," McGrath said.
"You have to learn that shooting isn't really about strength, it's more the technique of it," Seeman said.
Where does the team practice?
"We practice at the Naval Academy ice rink. We have to self-transport there, so we usually carpool," McGrath said.
"Why is ice hockey not an official team at SPHS?
"The school hasn't sponsored it because it's too expensive. Ice time is really expensive and it would be hard to get the busses up there," Seeman said.
What do you like most about the sport?
"I like how physical and fast-paced it is. It's also a different sport because not many guys at our school play hockey," McGrath said.
Does ice hockey have playoffs?
"Yeah, but not every team makes it. Last year we lost in the first round against South River unfortunately," Seeman said.
Do you think ice hockey is more relevant at other schools than at SPHS?
"It's not very popular at other schools in the county, but at Spalding and other private schools it's definitely more relevant," Seeman said.
About the Writer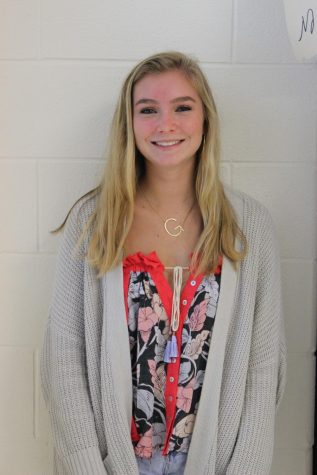 Greer Long, News Editor
Greer Long is a junior at SPHS and has been a part of The Talon since she was a freshman. Long was co-features editor last year and is now beginning her...