Green Club
Green Club members are bringing attention to pressing environmental issues.
Hang on for a minute...we're trying to find some more stories you might like.
Over the past few years, numerous new clubs have been created by students at SPHS. One of these is Green Club, which began a couple of years ago and focuses on promoting simple ways to help save the environment. Although it started out as a small group of people, Green Club now has around 30 members and counting.
The presidents of Green Club are seniors Olivia Fey and Juliana Wilson, who both joined their sophomore year. As passionate environmental activists, the girls were elected to their positions because of their enthusiasm about saving the planet. "I think when we first joined the club as underclassmen we saw a lot of potential for it," Wilson said, "We were really excited this year that we could finally take over more responsibility in the club and lead us in a direction of more service and more projects in the community."
Green Club members are working hard to raise awareness about the dwindling condition of the environment through methods such as fundraising, volunteering and politically advocating. "The purpose of Green Club is to get together a group of people who really care about the earth and find ways that we can contribute together," Fey said.
On Feb. 17, Green Club had a fundraiser at MOD Pizza to raise money to purchase Pura Vida bracelets. Club members will sell these bracelets and donate the profit to Project AWARE, a non-profit organization that takes action to create both local and global change for the oceans. "The purpose of this club is to not just do community projects but help ourselves and the people within our school and the community realize what is happening to the environment," Wilson said.
Green Club members strive to shine light on pressing environmental issues, such as the use of plastic straws. "Our focus this year is reducing the amount of plastic in our oceans by 'skipping the straw' and replacing single-use plastics with eco-friendly materials," junior Caroline Smith said. The "Skip the Straw" campaign is an international movement that aims to reduce water pollution by discouraging the use of plastic straws. "To me the movement is really symbolic of people standing up for their frustrations when it comes to pollution on earth," Fey said.
It is projected that by the year 2050 there will be more plastic in the ocean than fish, according to strawlessocean.org. Because many of them end up in the ocean, it is important to limit your use of plastic straws. "Skipping the straw is one of those easy and little things that seems unimportant but it actually adds up to make a huge impact," Wilson said.
About the Writer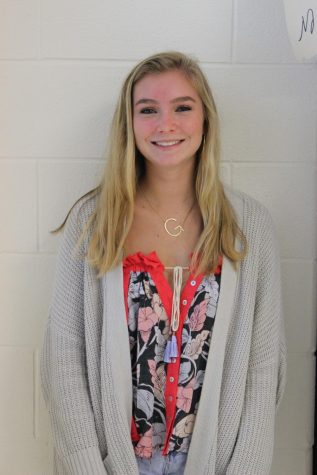 Greer Long, News Editor
Greer Long is a junior at SPHS and has been a part of The Talon since she was a freshman. Long was co-features editor last year and is now beginning her...